Description
This tunnel fish freezing equipment can play a very good preservation effect, has the characteristics of high efficiency and low energy consumption. There are many types of frozen products. In addition to the continuous freezing of seafood, it can also be used for continuous rapid freezing of vegetables (pea, corn kernels, potatoes, broccoli), fruits (mango, strawberry), pasta products (dumplings, fish balls), and seafood (shrimp, fish seafood). Customization is welcome!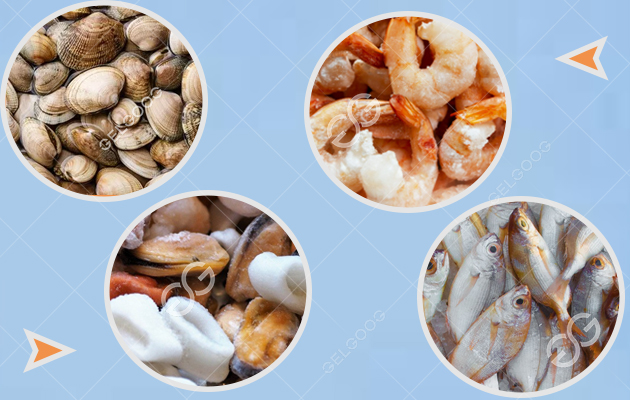 Working Principle Of Fish Freezing Equipment
When the material is in the fluidized bed, the suspended part is blown by strong cold air from bottom to top. At the same time, the cold air circulates in the storage body, and all aspects of the food are blown by cold air everywhere, forming rapid monomer freezing. Frozen food will undergo three stages of cooling, surface freezing, and deep freezing, so as to obtain high-quality frozen items.
Features Of Fish Freezing Equipment
Efficient fresh-keeping: It can keep the nutrition of seafood to a large extent without losing, and it has the characteristics of high efficiency and energy saving.
Excellent quality of frozen products: strong air convection is adopted, and the freezing speed is fast, thus ensuring the quality of frozen products.
Wide range of applications: high freezing efficiency and many types of frozen products (vegetables, fruits, seafood).
The high degree of hygiene: It is very convenient to clean and repair, and it meets the requirements of food safety standards.
Low energy consumption and low noise: The high-efficiency heat transfer effect of the special fan for energy-saving cold storage and the all-aluminum evaporator is adopted, which saves energy consumption.
The number of flushing times is small: the use of a complete set of films, variable film spacing, low frosting rate, 12 hours of continuous work without flushing becomes possible.
Strong anti-corrosion performance: food-grade 304 stainless steel is used, which has strong anti-corrosion performance.
Reasonable configuration: provide a variety of configurations, compressors can be designated brands, high-cost performance
Working Video Of Quick-Freezer Machine
Basic Parameters Of Fish Freezer
Dimensions (length*width*height) 7900×3300×2500mm
Structure type continuous
Air supply method Blow air on the bottom surface
The length of the main library body is 6000mm
Mesh belt width (center distance) 800mm
Mesh belt form 304 stainless steel wire braided mesh belt
Inlet length 1200mm Inlet height 1450mm
Placement form Place directly on the conveyor belt
Frozen product feed temperature ≤15℃ (center temperature)
Frozen product discharge temperature -18℃ (center temperature)
Freezing time 8~30min adjustable
Number of warehouse doors 1
Library body thickness 120mm
Polyurethane bulk density of warehouse board ≥42kg/m³
Finally, we are a professional fish freezer manufacturer, if you want to know more details about this machine, you can leave a message to me