Description
IQF green peas processing line is designed for producing premium IQF frozen peas from fresh ones. Green peas have gained great popularity in recent years due to healthy concern. While fresh peas have short period of shelf life, frozen peas are preferable choices instead. For premium frozen green peas are as fresh and nutritious as the fresh ones. With rich experience and knowledge, Gelgoog can offer tailored solutions for IQF green peas manufacturing plant with quality machinery.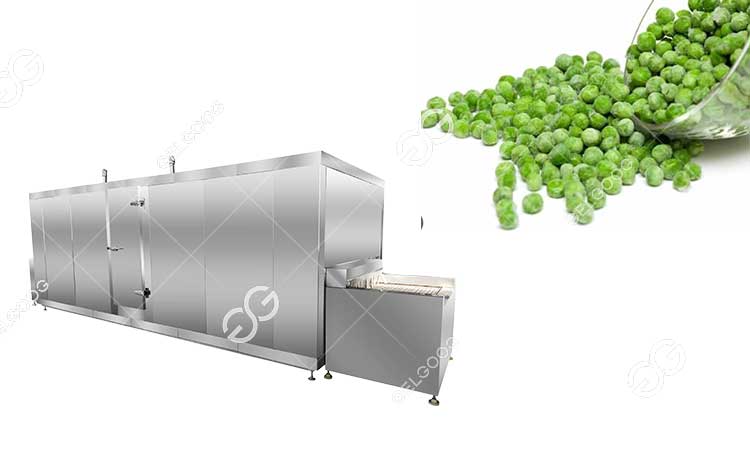 Frozen Peas Making Processes and Machines
1.Reception. Fresh green peas with pods arrive in factory for further processing. For they are vital for the freshness of end products.
2.Podding. In this process, the pods of green peas are removed manually or mechanically.
3.Air separating. The light foreign materials like leaves and pods are blown off the green peas.
4.Washing. Industrial vegetable and fruit washing machine can wash and clean the green peas with water flow, while at the same time remove stone, dirt and other foreign materials.
5.Blanching. Blanching can deactivate the enzymatic activity in the peas which speed spoilage. Our quality industrial blancher machine can precisely control the blanching time and temperature, ensuring quality peas while avoid over blanching.
6.Cooling. The green peas after blanching is of higher temperature. It is necessary to cool them down for further processing as well as saving energy for freezing.
7.Inspection. In this process, the green peas can be inspected and sorted manually or mechanically, ensuring consistent high quality of the peas.
8.Dewatering. Extra water in the blanched peas is removed by our commercial dewatering equipment, which dehydrate the green peas effectively and efficiently.
9.Freezing. This is the vital process of frozen green peas making. Our advanced IQF freezing system can quickly freeze a great quantity of green peas with premium quality as well as great energy efficiency.
10.Weighing and packing. The frozen green peas are accurately weighed and packed by multi-head weighing and packing machine.
Advanced IQF Tunnel Freezer for Frozen Peas
With constant innovation, our IQF tunnel freezer machines can realize quick freezing of perfect separated green peas with premium quality in color, taste, appearance, texture and so on. Take the bed plate of IQF tunnel freezer for example. The surface of it is smooth so as to do no damage to the appearance of the food products. And the speed of the bed plate is adjustable to meet customer needs. What's more, equipped with advanced technology and innovation design, the individual quick freezing machines can reach premium freezing of the green peas with great energy efficiency. Advanced though it be, the IQF tunnel freezing machine is easy to operate with precise control. And due to quality materials and unique designs, the IQF belt tunnel freezing systems for frozen peas are easy to clean and maintain. Most of all, the quick freezing machines can be customized in many aspects to meet customer needs in production capacity, sizes, materials and so on. Please do not hesitate to get tailor made solutions for frozen peas processing plant.