Description
This tunnel-type squid frozen machine can freeze the center temperature of quick-frozen items to -18°in a short time, which can effectively reduce the loss of nutrients and achieve rapid freezing. Suitable for shrimps, fish fillets, squid, scallops, chicken, chicken nuggets, cuttlefish balls, octopus, fish balls, shrimp balls, squid rings and other seafood. In addition, it is also suitable for a variety of fruit and vegetable products, flour products, Chinese medicinal materials, etc. It is a quick-freezing machine with high production efficiency and mature technology.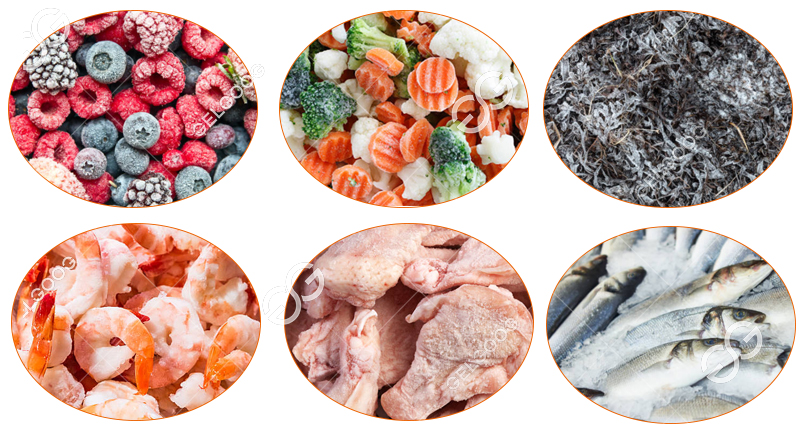 Structural Characteristics Of Squid Frozen Machine
This squid tunnel freezer machine is mainly composed of thermal insulation door, evaporator, mesh belt conveying system, control system, compressor, condenser, etc.
Fast cooling and quick freezing, the evaporators are arranged along the running direction of the steel plate belt, the windward area is large, and the continuous production can be carried out for a long time. The internal and external supports of the warehouse are made of stainless steel. .
The warehouse is divided into upper and lower layers from the middle of the two layers of shelves, and the two layers use different storage temperatures so that the refrigeration coefficient of the primary unit is more than doubled. The airflow is organized reasonably and the freezing time is shortened.
The stainless steel mesh belt is of excellent material, smooth and beautiful surface, and meets the requirements of food hygiene. There are multiple rails under the mesh belt, and the frozen products can be directly frozen on the mesh belt, and the design is reasonable.
 Working Video Of Squid Freezer Machine
In addition to quick-frozen seafood, this series of quick-freezers can also freeze a variety of vegetables, fruits and pasta, etc. Very versatile. Below is the working video of this squid frozen machine, which has high operating efficiency.
Advantages Of Tunnel Calamari IQF
Stable and reliable, with an extremely low failure rate.
High efficiency, low energy consumption, saving production cost.
The goods are frozen evenly without dead ends, and the freezing speed is fast.
Stepless frequency conversion speed regulation, flexible adjustment.
The output per hour is between 300kg/h-3000kg/h.
Less labor intensity, easy to clean.
Finally, if you want to know more details about this squid freezer machine, you can leave us a message, we will quote you as soon as possible after receiving the message.In addition, our company also provides quick-freezing solutions for corresponding products, which can help you achieve better production and obtain high-quality products.