Description
Frozen sweet corn process line manufacturer and supplier. Sweet corn is widely loved by people of all ages all over the world. And it is found in many food recipes, from Elote tacos to stews. To help people enjoy the sweet corns all year around, frozen sweet corns come to the rescue while reduce food waste. Due to rich experience and professional knowledge, we can design and develop frozen sweet corn freezing lines to suit your needs in production capacity, footprints, and so on. Please feel free to contact us for more details.
Process for Frozen Sweet Corn Making
1.Raw materials reception. The ears of corn with husk arrive in the factory, waiting for further processing.
2. Remove corn husk. For large scale sweet corn process line, there is automatic sweet corn husker machine, which can remove the corn husks easily and automatically from fresh corn ears.
3. Selection. After removing husks from sweet corns, they should be sorted and selected the suitable ones for processing. Usually, the ones with uniform color and firm texture are chosen, while those with defectives are eliminated.
4. Corn kernel cutting. The industrial corn kernel cutter machine can strip the kernels quickly and effectively from the corn cobs.
5. Removing the foreign materials. After cutting, there are many foreign materials in the corn kernels. So it is necessary to remove the corn silk, husk and so on.
6. Washing. To further clean the corn kernels, the sweet corn kernel washer machine is vital. Using the forces of water flow, the commercial corn kernel washing machine can wash and clean the products in an effective and efficient way.
7. Blanching. The blanching process can retain the desirable color of the corn kernels, eliminate potential bacteria and so on. With advanced technology, our sweet corn blancher machine can precisely control the blanching temperature and time, ensuring the consistent quality of corn kernels.
8. Cooling. After blanching, the hot corn kernels should be cooled down. And there are usually two steps cooling. The cooling process can not only preserve the premium quality of the corn kernels, but also save energy for the next freezing process.
9. Dewatering. The dewatering machine will remove the extra water from the corn kernels, ensuring the firm texture of end products.
10. IQF freezing. Our IQF freezer can rapidly freeze large quantity of corn kernels with energy efficiency.
11. Weighing and packaging. The frozen sweet corn kernels are weighed and packed automatically by multi-head weigher and packing machine.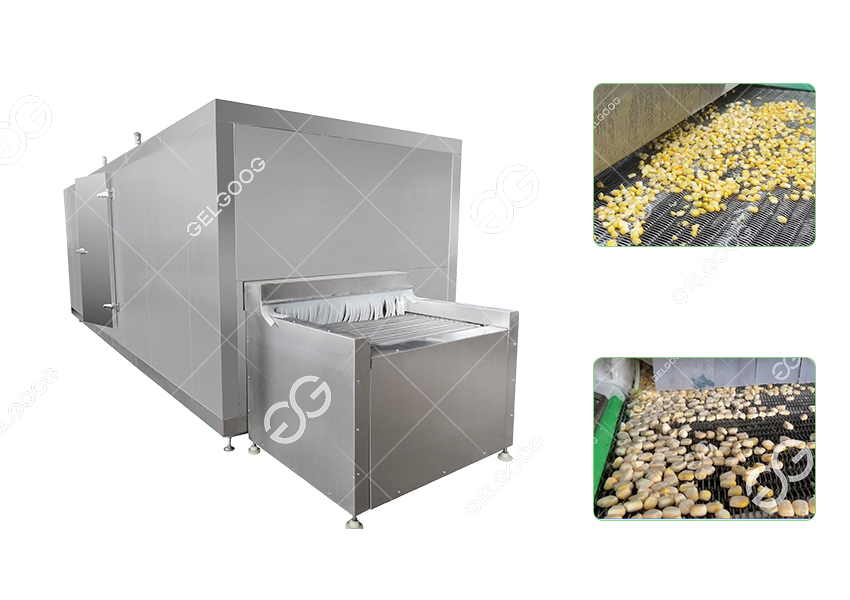 Sweet Corn Freezing Machine
Gelgoog designs and manufactures IQF freezer machines for frozen sweet corn processing lines according to customer needs. Equipped with IQF technology, the sweet corn freezer machine can quickly freeze great amount of sweet corns. Thanks to advanced technology and innovative designs, the rapid freezing system for frozen corn making can realize premium end products with great energy efficiency. With computer control system, the commercial sweet corn freezing machine is easy to operate, saving labor costs.